Interaction system using SmartSkin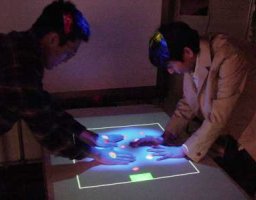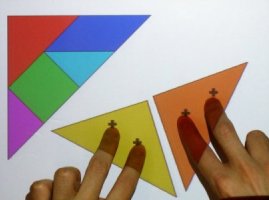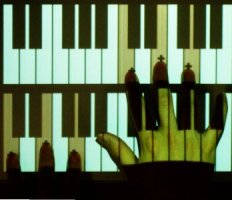 We develop various interaction techniques for SmartSkin, a human body shape sensor based on capacitive sensing technique, developed by Jun Rekimoto (Sony Computer Science Laboratory).
We have developed Multiple Pointing Input System on SmartSkin which allows multi-touch interaction for concurrent and direct manipulation for GUI. Besides, we research on shape-based interaction techniques for a desktop environment, entertainment applications or media art.
Materials
Related work
Related Information
Publications
"Interaction Techniques for SmartSkin" (PDF)
Kentaro Fukuchi, Jun Rekimoto:

Proceedings of UIST 2002

, 2002.11 (demonstration paper)
"Interaction Techniques on Human Body Shape Sensor for Entertainment Application" (PDF)
Kentaro Fukuchi, Jun Rekimoto:

Proceedings of Entertainment Computing 2003 (IPSJ Symposium Series Vol.2003, No.1)

pp. 70-74, 2003.1 (Japanese)
"Massively Parallel Manipulation Techniques with SmartSkin" (PDF)
Kentaro Fukuchi, Jun Rekimoto:

Proceedings of FIT2003

, 2003.9 (Japanese)
"Multiple Pointing Input System on SmartSkin"
Kentaro Fukuchi, Jun Rekimoto:

IPSJ Journal Vol.46 No.7

pp. 1682-1692, 2005.7 (Japanese)
"A Multi-finger Interface for Performance Animation of Deformable Drawings"
Tomer Moscovich, Takeo Igarashi, Jun Rekimoto, Kentaro Fukuchi, John Hughes:

Proceedings of UIST 2005

, 2005.10 (demonstration paper)
"Multi-track Scratch Player on a Multi-touch Sensing Device" (PDF)
Kentaro Fukuchi:

Entertainment Computing - ICEC 2007 (LNCS 4740)

pp. 211-218, 2007.9
"Marble Market: Bimanual Interactive Game with a Body Shape Sensor" (PDF)
Kentaro Fukuchi, Jun Rekimoto:

Entertainment Computing - ICEC 2007 (LNCS 4740)

pp. 374-380, 2007.9
"An Evaluation of Concurrent Manipulation of Multiple Components on a Multipoint Input GUI"
Kentaro Fukuchi, Jun Rekimoto:

IPSJ Journal Vol.49 No.7

pp. 2500-2508, 2008.7 (Japanese)
"Concurrent Manipulation of Multiple Components on Graphical User Interface" (PDF)
Kentaro Fukuchi:

PhD thesis, Tokyo Institute of Technology

, 2006.7